Why are you in Rome?
Is it because you fell in love with the city, or because of your partner? Your work? Was it your own choice?
Why I am in Rome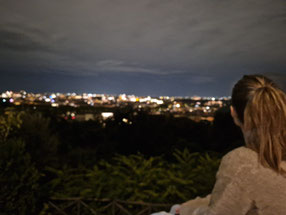 I'm in Rome because it's a city that has always had a magical attraction for me. I can`t really explain. On my first short visit a few years ago, I immediately felt comfortable and at home here.
After going through some challenging times, I decided to take a break. Time alone for myself (and my dogs). The pandemic had finally allowed for travel again, so I filled my car and set off.
We drove through Switzerland to Lake Como, where we stayed overnight. Next, we visited Milan, Florence, small villages in Tuscany, and finally arrived in Rome after stopping by the sea.
I immediately knew that I had arrived at my destination, and I didn't want to travel any further. It was like a magical attraction that pulled me in. Here, I could process everything and heal.
The sun, the beautiful streets and buildings, the food, and the friendly people were only some of the things that made Rome so special.
Yes, Rome may also have not-so-nice characteristics, but they didn't bother me. The positive aspects far outweighed the negative, and I started to explore the city further.
Tears while leaving Rome
I have never been a very emotional person, so I was surprised when I found myself in tears while leaving Rome after our first longer stay. The car was packed and we made one last stop in Gianicolo for a view over Rome. When it was time to leave, tears streamed down my face, and in that moment, I knew I had to come back.
Six months later, we returned for a longer stay, and once again, I cried while leaving. This time, I decided to make plans to return to Rome permanently and move my coaching business from Germany to Rome, to help people with similar life challenges here.
Eventually, I discovered and fell in love with Monteverde. "My" green hill, with so much nature and tranquility, yet one can quickly reach the city or the nightlife of Trastevere. The perfect place for me and my dogs but also to offer outdoor coaching. 
One of my special offerings are the "Women's Circle," which provide a space for women to connect and exchange. 
So, tell me: Why are you in Rome? 
Looking forward to meet you!