5 ideas to make friends in Rome
Rome is a beautiful and bustling city, but it can be challenging to find new friends when you first arrive. Whether you're a student, an expat, or just someone looking to expand your social circle, this blog post will give you some tips on how to find friends in Rome, Italy.
Join a Language Exchange Group
One of the easiest ways to meet new people in Rome is to join a language exchange group. Many people in Rome are looking to improve their English or other foreign language skills, and there are several groups on Facebook and Meetup.com that organize regular language exchange events. These events usually take place in a bar or cafe and involve chatting with locals over a drink or a meal.
Make a post
Check out for example different facebook groups and make a post. Introduce yourself and let the others know what you are interested in or looking for. There are different expats groups on facebook and also groups only for women. This is an easy way to meet new people.
Join a Sports Club
If you're into sports, joining a sports club can be an excellent way to meet new people in Rome. There are several sports clubs in the city, including running clubs, football teams, and yoga studios. You can find local sports clubs on websites like Meetup.com or Facebook.
Attend Cultural Events
Rome is home to some of the most significant cultural events in Italy. Whether it's a concert, a film screening, or an art exhibition, attending cultural events is an excellent way to meet like-minded people who share your interests. You can check out the city's cultural calendar on websites like Wanted in Rome and Time Out Rome.
Volunteer
Volunteering is a great way to meet new people while also giving back to the community. There are several volunteer organizations in Rome, such as Caritas, which works with the homeless, and Avis, which organizes blood donations. Volunteering can also help you improve your Italian language skills and gain a deeper understanding of the city's culture and people.
Take a Course
Taking a course or attending a workshop can be an excellent way to meet new people while learning a new skill. Whether it's a cooking class, a photography workshop, or a dance course, there are several options in Rome. You can find courses and workshops on websites like Obicà, Skillshare, and Eventbrite.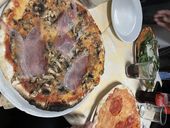 In conclusion, finding friends in Rome can be challenging, but it's not impossible. Joining a language exchange group, attending cultural events, volunteering, joining a sports club, and taking a course are all excellent ways to meet new people in the city. Remember to be open-minded, smile, and don't be afraid to strike up a conversation with someone new. Who knows, your new best friend in Rome could be just around the corner!