Why you should learn italian
Rome is a city steeped in history, art, and culture, and it's no wonder that so many people dream of living there. One of the best ways to fully immerse yourself in the Roman way of life is by learning Italian.
Not only will it help you communicate with locals, but it will also open up opportunities to explore the city and its culture on a deeper level. In this blog post, we will discuss why you should learn Italian while living in Rome and the easiest ways to do so.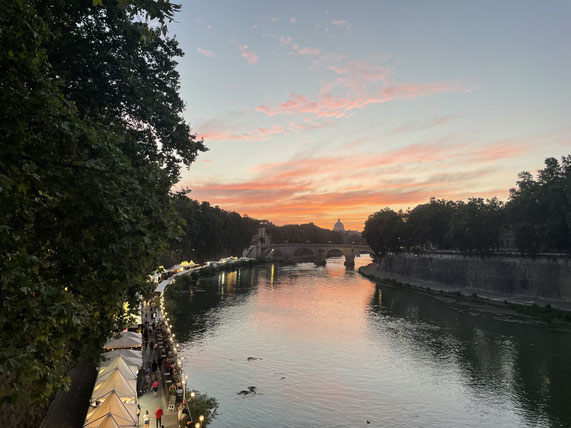 Communication with Locals
Learning Italian is crucial for communication with locals in Rome. While many Romans speak English, not everyone does, especially in more traditional neighborhoods. Speaking Italian can help you make new friends, navigate the city, and order food and drinks with ease.
Cultural Immersion
Learning Italian is an excellent way to immerse yourself in the culture of Rome. Understanding the language will help you appreciate the art, history, and literature of the city on a deeper level. You'll also be able to participate in local traditions and festivals, which are often held exclusively in Italian.
Career Advancement
Speaking Italian can be beneficial for your career prospects, particularly if you're working in a field that has ties to Italy. Many companies and organizations in Rome require their employees to speak Italian, so having a good command of the language can increase your job prospects.
Now that we've established why you should learn Italian while living in Rome, let's explore the easiest ways to do so.
Self study
Apps such as Babbel are good for getting an idea of the language. You will learn the first words and sentences and get an impression of the language. Additionally, podcasts can help you, as well as the free content of some Instagram or Facebook profiles. Start surrounding yourself with Italian. Watch TV, listen to the radio, and try to read the newspaper or books. Soak up everything that surrounds you in Italian.
Language Schools
Rome has numerous language schools that offer Italian language courses for foreigners. These schools provide a structured learning environment, and the classes are often taught by native speakers. Language schools can be a great way to make new friends and immerse yourself in the language and culture of Rome.
Private Tutors
If you prefer a more personalized learning experience, hiring a private tutor can be an excellent option. Private tutors can create a learning plan tailored to your needs and schedule, and they can provide individual attention that may not be possible in a classroom setting.
Language Exchange Programs
Language exchange programs are a great way to practice your Italian skills while also helping someone else improve their English skills. You can find language exchange programs through various online platforms, and they typically involve meeting up with a native Italian speaker to practice conversation skills.
Immersion Programs
Finally, one of the best ways to learn Italian is by immersing yourself in the language and culture. Immersion programs offer a comprehensive learning experience, which can include language classes, cultural activities, and homestays with Italian families. These programs can be pricey, but they provide an excellent opportunity to fully immerse yourself in the language and culture of Rome.
In conclusion, learning Italian while living in Rome can be a rewarding experience that will enrich your life in many ways. By understanding the language, you'll be able to communicate with locals, immerse yourself in the culture, and even advance your career. Whether you choose to attend language schools, hire private tutors, participate in language exchange programs, or enroll in immersion programs, there are many easy ways to learn Italian while living in Rome.