Why you should visit Monteverde
Monteverde is a beautiful neighborhood located in the southwest part of Rome. It is known for its lush greenery and beautiful villas. In this blog post, I will share five interesting facts about Monteverde that you may not have known.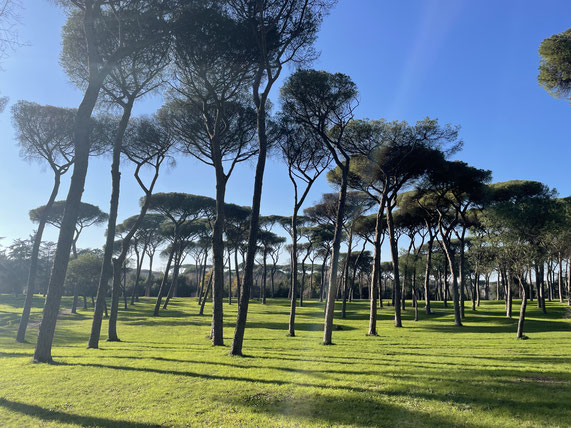 1. "Green Mountain"
Monteverde means "Green Mountain" in Italian. It is divided into two parts: Monteverde Vecchio - old Monteverde, and Monteverde Nuovo - new Monteverde. As soon as you arrive in Monteverde, you will discover a green and tranquil neighborhood with amazing views over Rome. Monteverde is an ideal place to escape the noise and pollution of Rome's city center. Additionally, the neighborhood is home to several international schools and universities.
2. Parks
One of the most famous parks in Monteverde is Villa Doria Pamphilj, which is the largest landscaped public park in Rome. You need to make sure you find the right entrance and exit for you, as the park is walled. Inside, there are several beautiful gardens, fountains, and statues. It is a perfect place to relax or engage in some sports.
Villa Sciarra is another beautiful park in Rome, with amazing fountains and a stunning view. It lies between the districts of Trastevere, Gianicolo, and Monteverde Vecchio.
3. Public transportation
Monteverde has good public transportation, including buses, trams, and a train station that connects to the city center. At the "Quattro Venti" train station, you can easily reach various areas of Rome. Bus number 75 offers a delightful tour of Rome, passing by the Tiber, Circo Massimo, Colosseo, and Termini. And did you know that a ticket costs only 1,50€?
4. Filming location
Monteverde is a popular filming location for movies and television shows. Some of the most famous movies filmed in Monteverde include "La Dolce Vita," "The Great Beauty," and "Roman Holiday."
5. Food
Monteverde has several excellent restaurants and cafes serving traditional Italian cuisine and international dishes, not to mention the numerous dessert and gelato places. An insider tip is La Gourmandise located at Via Felice Cavallotti, 36b for amazing gelato, and be sure to check out Dolci Desideri (Via Anton Giulio Barrili, 56/62) for incredible sweets.
---
In conclusion, Monteverde is a beautiful and vibrant neighborhood, with stunning views over Rome. Whether you're a local or a visitor, Monteverde is definitely worth a visit.